Energy Plantation Projects India Ltd (EPPI) operates in the Non Conventional and Renewable Energy space. The company was set up to produce Biomass Energized Electrical Power Stations.
The Company was registered in October 2005, and started operating from February 2006. The company is located and has its head quarter in the village of Nattarasankottai, about seven kilometers from the District Town of Sivagangai in Southern Tamil Nadu, India. Other offices are in Bangalore and Yavatmal.
Green Power using the nature's bounty is the driver of all core values of EPPI. The company's policies, procedures and practices were developed over a period of time based on these. Manifestations of Core Values are in the form of
Total transparency so that it can be replicated globally

Innovation, out of the box approach and initiatives as a routine

Simple, honest and understandable corporate wherewithal that is based on technological and urban sophistication as well as based on rural forestation advantages.
Management Structure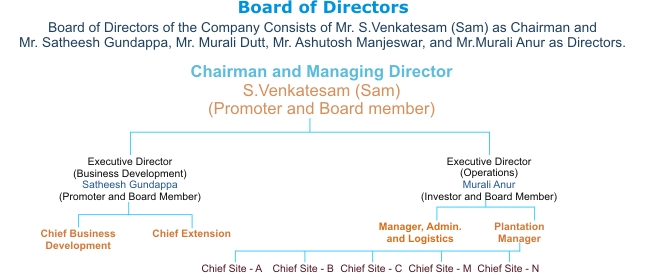 A desirable organization
EPPI's concepts and operations are being accepted and appreciated increasingly. Many Educational organizations are coming forward asking the company to provide facilities for project Work, R&D work and data connected with forestation programmes.
The company is now attracting a number of young professionals with very high qualifications to come and work in the company. Many agricultural and Forestry academic institutions are encouraging their graduates to join the company.
Statements are made by the first batch of Senior Managers (who took up EPPI for their Career) are reproduced below
"The urge to be different and do things on a different note led me to EPPI; I was flabbergasted by EPPI's concept, scalability of the project and their working model. The amount of professionalism and transparency in their day-to-day activities was the main factor for me to get into EPPI. Here we have the most hi-tech workplace in a village; this itself was a different concept of its kind. Every day brings in a new challenge, brings out the best in oneself and makes innovation as a part of a daily routine. EPPI is a unique work place where we write our own pay cheques. Elsewhere people dream about doing things differently, here we do things with a difference." - Avin Nanjappa, an Graduate in Marketing and Media Communication from MCRPV (affiliated to London school of Journalism)

When I first heard about EPPI and what they were doing, I wanted to see for myself if something like this was actually possible. After spending two days at the plantations and seeing the way people worked here, I was convinced that this was not some family run business or some village enterprise, but a full fledged corporate venture working with high technology and management practices. Just that the physical area of operation was not in the conventional space that we are used to for such corporate companies. The flexibility, freedom to work, innovate, learn, experiment and touch people's lives were some of the things that appealed to me most here. Little did I realize then, that these were just the tip of the iceberg!!! - Jayanth Ganapathy, an Mechanical engineer and National level Table Tennis player